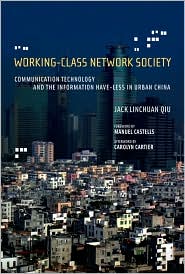 I will review
Working-Class Network Society: Communication Technology and the Information Have-Less in Urban China
by Jack Linchuan Qiu.
Qiu breaks down the dichotomy of the information "haves" and "have-nots" by introducing the information "have-less." He defines this group as "
migrants, laid-off workers, micro-entrepreneurs, retirees, youth, and others, increasingly connected by cybercafes, prepaid service, and used mobile phones" (MIT Press website). He goes on to discuss how China's economy is being affected by the introduction of inexpensive technology and the "network labor" of the new working class.