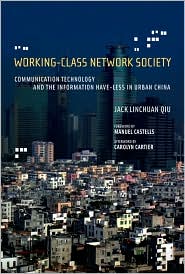 In
Working-Class Network Society: Communication Technology and the Information Have-Less in Urban China
, Jack Linchuan Qiu breaks down the dichotomy of information haves and have-nots by discussing the information "have-less." Qiu frames his discussion around the emergence of a new working class of "network labor" and the effects of technology on the lives of migrants, the unemployed, micro-entrepreneurs, youth, retirees, and other marginalized groups in China.
Working-Class Network Society
is broken down into three major sections: "Networks Materialized," "The People of Have-Less," and "A New Working-Class in the Making." Qiu discusses both the regulation and resistance associated with the rise of Internet Cafés and inexpensive mobile telephony in China. After discussing the ways in which ICTs are provided in working-class communities, Qiu explores the information needs of specific "have-less" groups. Out of these groups, I found Qiu's examination of migrant laborers within urban villages to be of particular interest, especially when juxtaposed with the effects of ICT use on the indigenous population.
Having conducted five years of empirical research in twenty Chinese cities, Qiu uses
Working-Class Network Society
as a means to discuss not only the underlying socioeconomic issues of the Chinese network society, but also to address the ways in which politics and government/institutional policies have contributed to the current Chinese informational state. By highlighting the diverse needs of the "have-less," Qiu debunks the pedestrian view that insufficient access to technology is the primary cause of information poverty.